Are you turning away profitable opportunities?
What could you do if you had more room in your commercial kitchen?
Provide external catering for weddings parties etc?
Change your menu?
Increase the menu choices?
Save money on wages?
Producing great food during the working week for use on weekends and public holidays?
My Commercial Kitchen at Warriewood is your answer. Two fully fitted out commercial kitchen spaces for hire, with a third workspace available.
3 working spaces…
2 cooking lines, each comprising:
6 tray combi oven…
5 tray blast chiller…
4 burner cook top…
Flat griddle…
More than 6 metres of bench space…
Food preparation sink…
Trolley…
Shared wash up area…
Shared hand basin…
Shared coolroom space…
Shared freezer space…
Fully equipped with pots and pans, utensils…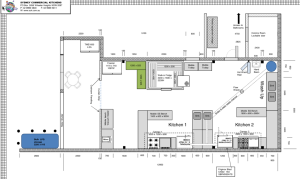 Rent by the day, by the week or something more permanent
Additional equipment, all purchased new is available at reasonable rental rates
Bench top mixers…
25 litre planetary mixer in separate work zone…
Food processor vegetable cutter…
Robot Cook thermal mixer…
Stick blenders…
Vacuum packaging machine on mobile station…
Meat slicer & more…
Just bring your own knives, tea towels and your food to prepare and you are ready to go.
Need More Kitchen Space?