Are you turning away profitable opportunities?
What could you do if you had more room in your commercial kitchen?
Provide external catering for weddings parties etc?
Change your menu?
Increase the menu choices?
Save money on wages?
Producing great food during the working week for use on weekends and public holidays?
Perhaps you are looking for a venue to hold cooking classes?
My Commercial Kitchen at Warriewood is your answer. Two fully fitted out commercial kitchen spaces for hire.
2 working spaces, each comprising:
5 tray blast chiller…
Individual walk in coolrooms…
Food preparation sink…
More than 7 metres of bench space…
2 Individual benchtop induction cooking units…
Shared Equipment
Shared hand basin…
Wash up area, with 2 x 600mm wide sinks…
Pre-rinse arm…
Washtech UD under counter dishwasher…
Hot Wash Reel hose…
Unox 7 tray electric combi oven…
Cooktek 15amp Induction Cooking Unit…
Orved Vacuum Sealer on a trolley [Bring your own vacuum bags or buy them through SCK]…
Shared freezer 2 Door Skope VF1000 …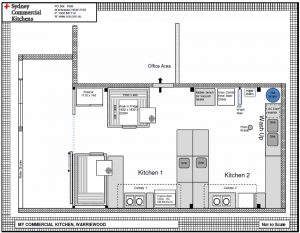 Rent by the day, by the week or something more permanent.
Just bring your own pots and pans, utensils, knives, tea towels and your food to prepare and you are ready to go.
Need More Kitchen Space?
You Can Hire Kitchen 1 Now!

You Can Hire Kitchen 2 Now!